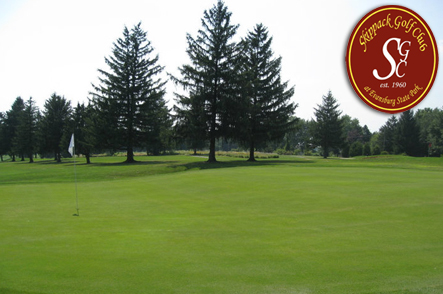 Limit 4 per person. May purchase additional vouchers as gifts. Not valid before 10:30AM on weekends & course holidays. Not valid for leagues, outings, cash back or with any other offer. Expires 4/1/2020.
Enjoy!
Deal Features
18 gorgeous holes are waiting for you at Skippack Golf Club's 6,007-yard, 69.0/120-rated course. Set among Pennsylvania's stunning countryside, this "player's course" is sure to be home to your next great round.
Test your game on a true "player's course" with today's feature: $22 for 18 Holes with Cart at Skippack Golf Club in Skippack near Philadelphia ($57 Value. Expires April 1, 2020!)
Located in Skippack, just a short drive from Philadelphia proper, Skippack GC began its life as the ingenious creation of designers Herris and Benahia, who took a gorgeous piece of prime Pennsylvania real estate and turned it into the true gem of Montgomery County. Reimagined by architect X. G. Hassenplug in the late 1980s, golfers who take on Skippack today get the best of both worlds – a timeless design that has been updated to incorporate all of the game's must-have modern esthetics.
Skippack GC made many improvements to the golf course in 2017. Skippack has renovated their bunkers by digging them out, adding a liner, contouring, and shaping the bunker edges. A top quality sand was added to finish off the renovation. They also renovated 6 tee boxes making them larger, leveled them and sodding them with blue grass. Most importantly Skippack GC has renovated their entire irrigation system. This has given the turf better water coverage as well as more sprinkler heads around the greens for better conditions around the greens where it matters most.
Most important is the quality of the golf, which is nothing short of superb. Playing 6,007 yards from the back tees, this par-70 course will challenge every single club in your bag with small greens that are difficult to hit in regulation, rolling wooded terrain that make tee shots tricky, and a creek that comes into play at various points throughout your round. Known as a true "player's course," a low score is possible at the end of your round but comes only from excellent course management and shot selection – both of the utmost importance.
Along with the beautiful golf course, the Skippack facility has everything you need to enjoy your afternoon of golf to the fullest. Work on all aspects of your game at the full-service practice area that includes a driving range, chipping area, and putting green. The top-tier pro shop is always fully stocked, and the knowledgeable staff will help you select the equipment and apparel that's right for your game. If you're looking for a delicious way to end your day, the Farm House Restaurant, overlooking the golf course, offers extensive lunch, dinner, and bar menus to suit every occasion.
Get the deal here: https://www.groupgolfer.com/deals.php?id=1013265&utm_source=alert&utm_medium=email&utm_campaign=skippack-pa-1013265&utm_content=baseline