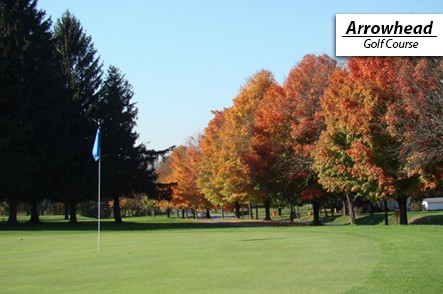 The Rule Book
Limit 4 per person. Subject to availability. Not valid before 10AM on weekends. Not valid for leagues, outings, course holidays, cash back or with any other offer. Expires 6/1/2021.
See rules that apply to all deals.
Enjoy!
Arrowhead Golf Course
Test your game against 27 of Pennsylvania's best golf holes with today's feature: $20 for 18 Holes with Cart at Arrowhead Golf Course in Douglassville near Philadelphia ($44 Value. Expires June 1, 2021!)

Two tremendous layouts, a relaxing atmosphere, and a golfing experience unlike any other awaits you at today's feature course: Arrowhead Golf Course. Located in scenic Douglasville, Arrowhead's two exceptional layouts provide the perfect platforms for testing every shot in your arsenal and every club in your bag.

Arrowhead's full-length layout, the 18-hole Red & White course, is perfectly representative of how beautiful and fun Pennsylvania golf can be. Playing just over 6,000 yards from the back set of tees, this par-71 jewel challenges every player with a bevy of mature trees, plenty of undulation, and water from ponds and streams in play on over a third of the holes. The signature 16th is one of the best golf holes in Berks County, and only gives up a low score to those who can keep their ball out of trouble and navigate the vastly sloped green.

The nine-hole Blue Course is just as beautiful as the Red & White, and features many of the same natural challenges throughout its layout. This meticulously manicured course is a true challenge off of the tee thanks to heavy tree-lined fairways, doglegs, and ponds in play.

What makes Arrowhead a truly exceptional facility is that no matter which course you end up playing, you're sure to find a fun, relaxing, and unbeatable golfing experience that you'll want to play over and over again.

Along with 27 stunning holes of golf, the Arrowhead facility features everything you need to play your best golf. Looking to upgrade your equipment or apparel? The pro shop is fully stocked with the latest and greatest from golf's biggest brands like Nike, Taylormade, and Ping. The courses also features a small snack bar which offer delicious snacks, sodas, and sandwiches to get you energized to hit the course. Arrowhead's gorgeous 27 holes are also the perfect host venue for your next golf outing or tournament.

Easily accessible from Philadelphia, Lancaster, and historic Allentown, a round at the beautiful Arrowhead Golf Club is one you can't afford to miss. Reserve your round now!
Get the deal here: https://www.groupgolfer.com/deals.php?id=1015201&utm_source=alert&utm_medium=email&utm_campaign=arrowhead-pa-1015201&utm_content=baseline