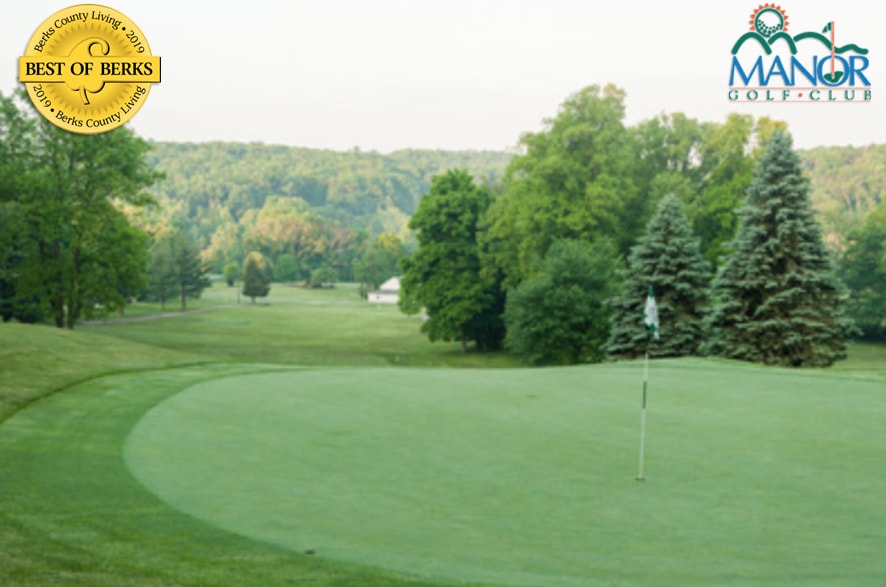 The Rule Book
Limit 4 per person. Subject to availability. Not valid before 11AM on weekends and course holidays. Not valid for leagues or group play, outings, cash back or with any other offer or discounts. Expires 6/1/2021.
See rules that apply to all deals.
Enjoy!
Deal Features
Located just a short drive from Philadelphia, Lancaster, and Allentown in Sinking Spring, Manor Golf Club offers a true test of golf on a traditional championship-style golf course where shot-making takes precedence over length.
Established in 1928, Manor Golf Club is one of the oldest public courses in eastern Pennsylvania. In what we've come to describe as the "classical" style, this par-70 Alexander Findlay design transforms the side of a mountain into a sturdy test of moderate length.
Manor Golf Club embraces its historical significance as a one-of-a-kind design from the famous Scottish architect Alexander Findlay. This 18 hole championship-style course is located in a scenic country setting built into the side of a mountain, and its strength lies in the transforming its terrain into a fine test of golf.
The course takes great pride in its well-kept, player-friendly course conditions. Enjoy lush, well-paced greens, a great pace of play, and a staff that treats its guests like Manor family. The hard efforts have paid off, with Manor Golf Club winning the top spot in the Best of Berks in 2016 and 2017.
Manor Golf Club's all-grass practice facilities allow you to work on every part of your game year-round, weather permitting. It includes a 35-station, two-tiered driving range where you can hit real golf balls — not range balls — and also a large putting green to tune up your short game. If you need assistance with any part of your game, the Manor Golf Club provides the area's largest instructional program, hosting various general golf clinics, junior golf, camps, and private lessons throughout the season.
When you finish, stop by the cozy clubhouse area, where you'll find the well-equipped pro shop and full-service snack bar with outdoor seating options — the perfect way to end your day!
Get the deal here: https://www.groupgolfer.com/deals.php?id=1015318&utm_source=alert&utm_medium=email&utm_campaign=manor-pa-1015318&utm_content=baseline